I have delivered the canvas prints that make up the complete piece based on one of the medieval tile patterns at St Davids Cathedral.
Four are on show at the cathedral, where all of the artists of the group are exhibiting, and I took three to both Llanwnda and Llanychaer churches, which are not far from Fishguard. I am grateful to the curators of the other churches on the trail for taking the canvas tile prints to these other churches. Although the artwork is being installed this week, the trail is not officially open until the launch on Friday at the cathedral.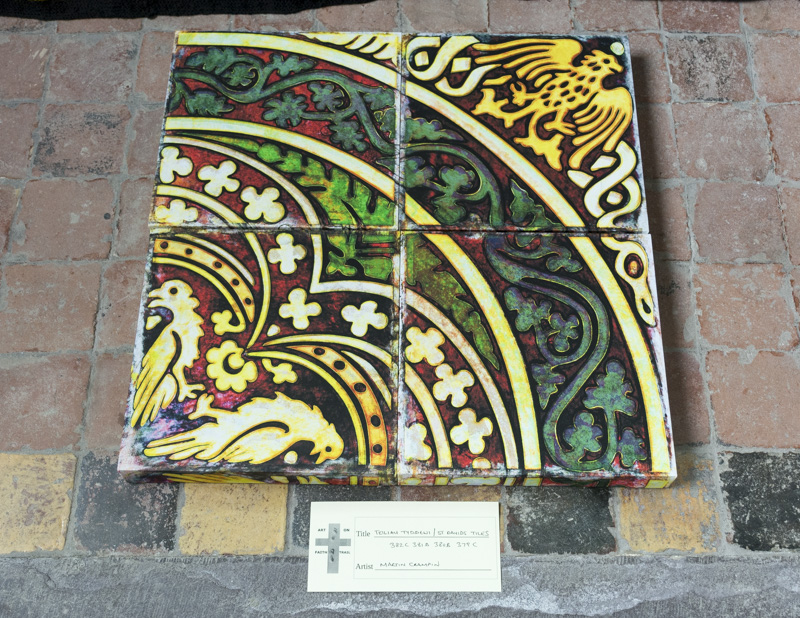 Although none of the tiles are the same, they comprise four main patterns, and make up the complete pattern of sixteen tiles. The medieval tiles would have been made with a stamp, to ensure some regularity, although this sometimes also repeated small mistakes in the design, or areas of wear on the stamp.
After some time working on these interpretations of the tiles, it was good to look at the original tiles in the cathedral again. There are two complete sets of the pattern on the first step leading to the high altar, near to the restored shrine. There are also several versions of the tile in different parts of the eastern end of the cathedral that have been remade in the nineteenth century. I will post further images of them after my next visit.