Mae darn newydd o waith arbennig gan Martin Crampin wedi cael ei arddangos ar draws yr holl eglwysi sy'n cymryd rhan yng Nghelf ar y Llwybr Ffydd 2019, yn Sir Benfro. Roedd set o un ar bymtheg o 'deiliau' cael ei dosbarthu ar draws yr eglwysi a'r eglwys gadeiriol. O'u gosod gyda'i gilydd roedden nhw'n creu dyluniad sy'n seiliedig yn agos ar un o'r patrymau teiliau o'r palmant canoloesol yn seintwar eglwys gadeiriol.
Roedd y darn cyfan yn cael ei ddangos ynghyd â mwy o waith newydd mewn arddangosfa yn Oriel y Clwystrau, Eglwys Gadeiriol Tyddewi, 22 Hydref – 4 Tachwedd 2019.
14 Mehefin i 31 Gorffennaf 2019: Eglwys Gadeiriol Tyddewi, Solfa, Llanhywel, Llanrhian, Mathry, Llanwnda, Llanychaer, Casnewydd-bach, Castell Gwalchmai
Datganiad i'r wasg yr Esgobaeth

A special new piece of work by Martin Crampin was exhibited across all of the churches taking part in the 2019 Art on the Faith Trail in Pembrokeshire. A set of sixteen 'tiles' was distributed across the churches and St Davids Cathedral. When placed together, they made up a design based closely upon one of the tile patterns from the medieval pavement in the presbytery of the cathedral.
The whole piece was shown together with more new work at an exhibition in the Cloister Gallery, St Davids Cathedral, 22 October – 4 November 2019.
14 June to 31 July 2019: St Davids Cathedral, Solva, Llanhywel, Llanrhian, Mathry, Llanwnda, Llanychaer, Little Newcastle, Walwyn's Castle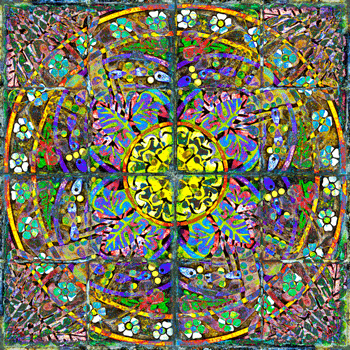 Celf ar y Llwybr Fydd / Art on the Faith Trail